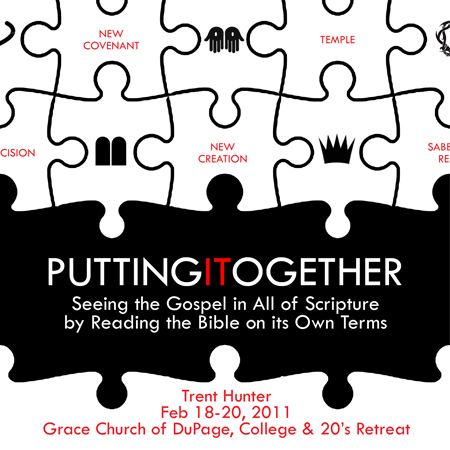 The Bible is a certain kind of book.
When we read the Bible merely as a book of rules, heroes, facts, good advice, or great literature we don't necessarily read the Bible. Read this way, without reference to the gospel, we reflect back to ourselves our own thoughts about God, about ourselves, and about how we may be made right.
If we believe that the Bible is God's word written then we want to read it in a way that does justice to what it is: God's inspired word progressively revealed through human authors centered in Jesus Christ. The Bible is the true story of everything, centered on God's plan to redeem a people to His presence through Jesus Christ to the praise of His glorious grace. We want to read it according to what it is. We see God for who He is, ourselves for who we are, and Christ in all of his greatness and glory.
In the month of February I had the pleasure of sharing a weekend with about thirty college students from Grace Church of DuPage, a church in the Chicagoland area where my brother, Drew Hunter, serves as Minister to College Students.
We set out to see the gospel in all of Scripture by reading the Bible on its own terms. That is, by reading the Bible according to the Bible's presuppositions, the Bible's plot-line, the Bible's patterns, and the Bible's purpose. When we open the Bible this way, the Bible opens us up and opens to us the glory of God in the face of Christ. While these themes were mingled throughout, most of our time, as you can see, was spent on the Bible's plotline. I earnestly pray for God's grace to be praised in the reading, cherishing, and obeying of His word explained in these sessions.
During our session on Redemption, we explored the Bible's promise structure by zeroing in on each of the Bible's covenants and exploring their relationships to one another. This chart visually represents and carries some of the more important texts along the Bible's redemptive plotline.