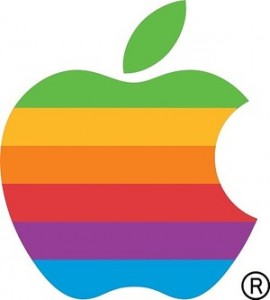 The headlines have always brought the news of notable deaths. From as far back as I can remember, famous people died. Most of these announcements, simply because of my age, didn't bring about a sense of personal loss. I didn't grow up with them. I didn't know what I was missing. But this evening when I clicked on the Drudge Report and saw a picture of a young Steve Jobs with an apple in his hands, I knew what I would see when I scrolled down: "Steve Jobs Dead."
For a few years in the early nineties I had an Apple II, and then a Macintosh 512k. I wish I had them both back. Both left our family through a garage sale, and for much less than I could buy either now. That's because these apple seeds were the beginning of a transformation in the way we live, do business, socialize, relax, and learn.
I will miss Steve.
I will miss Steve for the clarity of his vision.
He could see the world clearly as it was, with its problems, and clearly as it could be, with all of its potential. In a 1985 interview, he saw what few if any others were able to see: "The most compelling reason for most people to buy a computer for the home will be to link it into a nationwide communications network. We're just in the beginning stages of what will be a truly remarkable breakthrough for most people–as remarkable as the telephone." Ahead of Apple's iCloud announcement, I posted this video from 1997 where Jobs basically describes the problem iCloud would eventually address. He did this time and again across his career. He could see the future, because he planned to make it.
I will miss Steve for the marvelous things he created.
Who won't? If I'm not mistaken, we can basically give Steve credit for the following: the personal computer (basically), the mouse, visual computer interface, the laptop, iPod, iTunes, iPhone, iPad. Each of these have had their own deeply profound "focus and simplicity," to use his own words. He was made in the image of His Creator, and he made things beautiful because he understood, even if he didn't know why, that humans are aesthetic creatures. I wrote a bit about this in a few posts a few years ago, "What Apple Knows," "1 Million iPods Means Something," "How to Think about the iPhone," and "Desiring God and Desiring iPhone."
And I will miss Steve for his contemplation of life in the world.
We didn't share the same answers to ultimate questions, and I'm sad for that, but he sure recognized the importance of thinking deeply about those questions. For many reasons, I appreciated Steve's now famous 2007 Stanford University Commencement address, in which he said the kinds of things CEOs and icons of popular culture just don't say: "Remembering that I'll be dead soon is the most important tool I've ever encountered to help me make the big choices in life. Because almost everything – all external expectations, all pride, all fear of embarrassment or failure – these things just fall away in the face of death, leaving only what is truly important. Remembering that you are going to die is the best way I know to avoid the trap of thinking you have something to lose. You are already naked."
There will be no shortage of reflections on the life and meaning of Steve Jobs. People will write about the things he made, the ideas he thought up, the obstacles he overcame, and the combination of principle, force, and warmth with which he did it all. Human beings are capable of marvelous things. But, in the end, all human beings meet the same end. Steve Jobs could solve the problems we didn't know we had, but he couldn't solve the one that everyone who has ever lived knew full well. In the words of history's wisest leader, next to Jesus:
It is better to go to a house of mourning
Than to go to a house of feasting,
Because that is the end of every man,
And the living takes it to heart.
(Eccclesiastes 7:2)
Steve Jobs had the vision to see our technology problems and address them. God saw and addressed the problem of sin and death and hell and the Devil in Jesus Christ. Steve Jobs had the creativity to invent and design devices that made us very happy. But there was always competition, and we still had to buy the next iteration. God has made us new creations and is making a new creation where "He will wipe away every tear from their eyes, and death shall be no more," and where Jesus Christ, the ultimate innovator, will say, "Behold, I am making all things new" (Revelation 21:4).
Steve jobs thought deeply about the world and even about death. But he did not have the answer to that problem. From what I understand, Steve Jobs did not understand that problem clearly enough, and he did not find the only solution that works. In his own words, "death is very likely the single best invention of life. It is life's change agent. It clears out the old to make way for the new."
That's not true. At least in the way he meant it.
I praise God that the words of Hebrews 2:14-15 are true: Jesus Christ lived, died, and was raised, "that through death he might destroy the one who has the power of death, that is the devil, and deliver all those who through fear of death were subject to lifelong slavery." And I praise God that the words of Romans 8:1 are true, that "there is therefore now no condemnation for those who are in Christ Jesus." And I praise God that the words of John 3:16 are true, that " God so loved the world, that he gave his only Son, that whoever believes in him should not perish but have eternal life."
But even if Steve did not embrace this hope when he spoke his clearest and most public words about death, we can sure hope that he trusted in these words in the privacy of his last days or hours. God is pleased to do this from time to time.
With the news of this notable death, something is clearly missing this time. I grew up with Steve and I'm sad for the news of his death.
I also praise God that He saw our greatest problem, that He thought more deeply about it than any of us do, and that he had the creativity and power to address it as only He could in Jesus Christ.