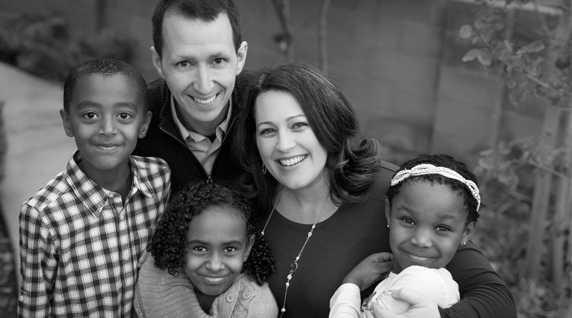 These days, my son is into "facts." Here are some facts about me:
Image bearer of God.
Child of God through faith in Jesus Christ—his life, his death, and his resurrection.
Husband to Kristi since 2003.
Father of three by adoption. Madalyn came home from Ethiopia in 2009, and Carson in 2010. Shae came home from Mississippi in 2011. We're in the process of adopting again.
Pastor for Preaching and Teaching at Heritage Bible Church in Greer, SC. Click here for our announcement of this recent transition.
Instructor for Preaching Workshops for The Charles Simeon Trust.
Graduate of the Moody Bible Institute (B.A., 2003), and of The Southern Baptist Theological Seminary (M.Div., 2009).
Years ago this site was a blog, but today it functions as an online hub for my recommendations and writings.
The name for this site grows out of the conviction that Jesus Christ is presently reigning over all things, and that it is the privilege of every Christian to live under his rule. Consider that a word search through Scripture for "all things" calls up some of the most Christ exalting passages in all the Bible.
John 1:3 All things were made through him, and without him was not any thing made that was made.

John 3:35 "
The Father loves the Son and has given all things into his hand."

Ephesians 1:7-10 In him we have redemption through his blood, the forgiveness of our trespasses, according to the riches of his grace, which he lavished upon us, in all wisdom and insight making known to us the mystery of his will, according to his purpose, which he set forth in Christ as a plan for the fullness of time, to unite all things in him, things in heaven and things on earth.

Ephesians 1:20-22 He raised him from the dead and seated him at his right hand in the heavenly places, seated him at his right hand, far above all rule and authority and power and dominion, and above every name that is named, not only in this age but also in the one to come. And he put all things under his feet and gave him as head over all things to the church, which is his body, the fullness of him who fills all and all.

Colossians 1:16-20 For by him all things were created, in heaven and on earth, visible and invisible, whether thrones or dominions or rulers or authorities—all things were created through him and for him. And he is before all things, and in him all things hold together. And he is the head of the body, the church. He is the beginning, the firstborn from the dead, that in everything he might be preeminent. For in him all the fullness of God was pleased to dwell, and through him to reconcile to himself all things, whether on earth or in heaven, making peace by the blood of his cross.

1 Corinthians 15:20-28 But in fact Christ has been raised from the dead, the firstfruits of those who have fallen asleep. For as by a man came death, by a man has come also the resurrection of the dead. For as in Adam all die, so also in Christ shall all be made alive. But each in his own order: Christ the firstfruits, then at his coming those who belong to Christ. Then comes the end, when he delivers the kingdom to God the Father after destroying every rule and every authority and power. For he must reign until he has put all his enemies under his feet. The last enemy to be destroyed is death. For "God has put all things in subjection under his feet." But when it says, "all things are put in subjection," it is plain that he is excepted who put all things in subjection under him. When all things are subjected to him, then the Son himself will also be subjected to him who put all things in subjection under him, that God may be all in all.

Hebrews 1:1-2 Long ago, at many times and in many ways, God spoke to our fathers by the prophets, but in these last days he has spoken to us by his Son, whom he appointed the heir of all things, through whom also he created the world.

Revelation 21:5 And he who was seated on the throne said, "Behold, I am making all things new."
Years ago I noticed that the passages in Scripture focus on Jesus Christ's authority and plans are the same passages that give meaning to everything else in the universe.
While everyone views the world from a certain perspective, believers in the exalted Lord Jesus Christ are those who have surrendered a perspective that begins and ends with the finite self for a perspective that begins and ends with the eternal Son of God, Jesus Christ. The story of God's redemption of sinners for his glory through Jesus Christ is the story that makes sense of history, of our present world, and of the future ahead.
He is the Alpha and Omega. Everything is under his feet. He is exalted above all things.